Despite Covid Battersea Summer Scheme have continued to support us to do creative, fun and safe activities over the summer holidays. This was needed even more so than usual to keep our young people busy and having some fun after being locked down for so long.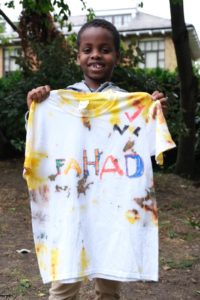 Go Ape: Once again this year we were supported to take two groups of 10 young people to Go Ape Battersea.
Youth Quote: Thank you Battersea Summer Scheme. Go Ape is so cool, it was high but I wasn't scared. Can I go again?
Thames Clipper: This was a new and very exciting trip involving a speed boat experience along the river Thames. High speed, historical facts and some James Bond music and a smile on every face.
Youth Quote: That was fast, I am really glad I did it. I never knew that building was called the Gherkin but now it makes sense.
Girls residential to the farm: We were able to form a bubble of girls from years 10 and 11 especially in need of a break from city life and a chance to destress away from it all. We combined this trip with vision boarding and a trip to the beach to make a real retreat holiday which brought both relaxation and focus to get ready for life back at home.
Youth Quote: This trip saved my life. I was going crazy at home and now I am less anxious about starting college in September. The farm was amazing and us girls really bonded.
Battersea Bake Off: We enjoyed taking a group of young people to do fruit picking at lower lady's farm. Followed by an opportunity to make jam and cakes